Shimizu Brand photo booth at Nada Miami
I have a paper moon artwork as prop in Shimizu Brand's artwork/prop filled photo booth install at the fair!
---
---
1st Year Retrospective @ Miller
August 1 - September 1, 2017

17 Essex Street, NYC, NY
---
First Ever and the Only East Hampton Biennial
curated by Woobie Bogus and Adrianne Rubenstein
---
w/Shimizu Brand @ The Middler Art Fair
6/22 - 25
---
SITUATIONS ATHENS performance with Delia Gonzalez and Rich Porter + temporary drawing installation
OPENING SUNDAY
JUNE 18TH
8-10PM
**Performance begins at 7pm
PERIKLEOUS 24
ATHENS, GREECE
---
helped w/IMPURE FICTION production of Brecht's The Caucasin Chalk Circle @ Kunstverein Hannover
---
Group show @ Shimizu Brand
---
New Spring @ Ghost, Spirited by John-Elio Reitman
New Spring
Sometime in April through Late May - Spirited by John-Elio Reitman
Works by: Loretta Barrera, Andrew Cannon, Lali Foster, Amanda Friedman, Max Guy, Heather-Anne Halpert, John-Elio Reitman, Saige Rowe, Adrianne Rubenstein, and Cici Wu.
NEW SPRING is upon us! It is unclear when it started or when it will stop. Early indicators for its arrival were the thaw, bird song, the emergence of crocus flowers, outdoor café seating, the flow of tree sap.
How much longer before it all goes to shit?
"Because of the extreme cold last year, the season only lasted three to four weeks. This year, if the weather pattern holds, [we] are hoping that the season will last seven or eight weeks. It is a pretty decent year. If we were growing what would kill us is seven days of 60 to 70 degree weather."
I saw the signs on the Taconic State Parkway, I saw the sign for EXIT 26: CROWN MAPLE / MADAVA FARMS, NEXT RIGHT. I followed the sign. I drove past acres of maple trees and ~250 miles of installed maple tubing, sucking sap directly to the processing facility. The farm, the gift shop, the café and the facility were not open for visitors that day. I walked around the woods and the perimeters of the buildings. The tubing looked not unlike the electricity wires running along the side of the dirt road that leads up the side of the property.
Ghost is located in the woods, accessible by portal; the astral plane; the internet. Ghost can be animated with electricity by a generator (Honda EU2000i). This generator emits carbon monoxide gas. Odourless, colourless, tasteless, it is harmful and dangerous to you and I. It is difficult to detect, like the subtle changes in the seasons. The barn was falling over, but now it is not. Ghost is hosted by Colin Alexander. ghostfeaturefilm.com
---
@ NADA New York w/Regina Rex
with Kristen Jensen, EJ Hauser, and Corey Escoto
March 2-5th
Skylight Clarkson North, 572 Washington St.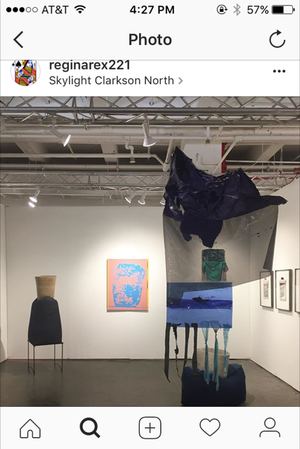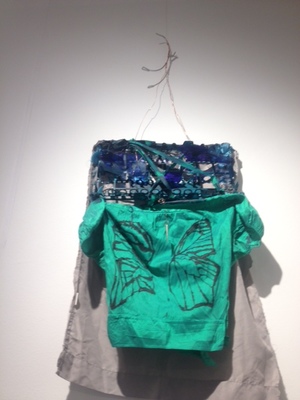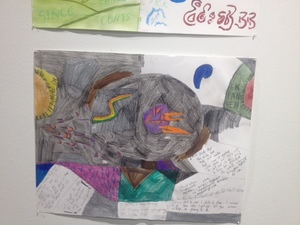 ---
Screening night! @ solo show: Jane, Grace, and Emily
Saturday, January 14th, 5-7pm
MILLER, 17 Essex Street, New York 10002
Throughout Amanda Friedman's show at the MILLER, she has been working with Lauren Anderson in the gallery at night. Together, they made a video from within and with the space of the exhibition, playing with lights and reflections. What they have generated activates the installation, and pushes Friedman's idea of time-based painting.
Anderson and Friedman have also invited several artists they are in conversation with to screen their short videos. The screening will begin at 5:30pm and features: Lauren Anderson, Amanda Friedman, Josh Brand, Heather Anne Halpert, Kate Ruggeri, and Alina Tenser.
---
SITUATIONS ON POWER AND PEACE:
AMANDA FRIEDMAN,
JENNIE JIEUN LEE,
JOYCE FRIZELL,
LEE MAIDA, MARY MANNING,
MONIQUE MOUTON,
RENEE DELOSH
JAN 7 - 29, 2017
OPENING SATURDAY JAN 7TH
6 - 9PM
"Power is not brute force and money; power is in your spirit. Power is in your soul. It is what your ancestors, your old people gave you. Power is in the earth; it is in your relationship to the earth."
- Winona LaDuke
*Above image:
Thoughtform: Good Luck 1
by Amanda Friedman
127 HENRY STREET
NEW YORK, NY 10002